Last Wednesday I had a partial meniscectomy of my right leg. That Monday I had a pre-op visit with my orthopedic surgeon, Dr. Robert M. Moore (
Moore Orthopaedics
). The only sad news to come out of the visit was that I was not going to be able to eat after 12:00 am Wednesday morning.
I carried on with my cross-training and research Monday and Tuesday. Monday also marked my first organized swim practice since I was 18 years old. I went to a Without Limits swim practice lead by Kristen Smith at the YWCA. It was a blast. Going into it I was nervous, but everyone was so welcoming that the nerves left as soon as we started the warm up.
The morning of the procedure I attended my second WOL swim practice...who knew when I would get to attend another?! I checked in at noon for my 2:00 pm procedure at Cape Fear Hospital. From the moment I entered until I groggily left, the staff was fantastic. Each person I interacted with made me feel at ease and prepared me for each step of the procedure. I can not emphasize how impressed and satisfied I am with both the care I received at both the Cape Fear Hospital and Moore Orthopaedics.
I remember being wheeled into the room for the procedure around 2 pm, but then it was lights OUT! I woke up in Recovery 1 with my leg in a brace about an hour later. I felt a bit groggy, but was quickly sound enough to move to Recovery 2. From there I was brought home and spent most of the next two days on my mother's couch reading "The Devil in the White City" by Erik Larson and napping.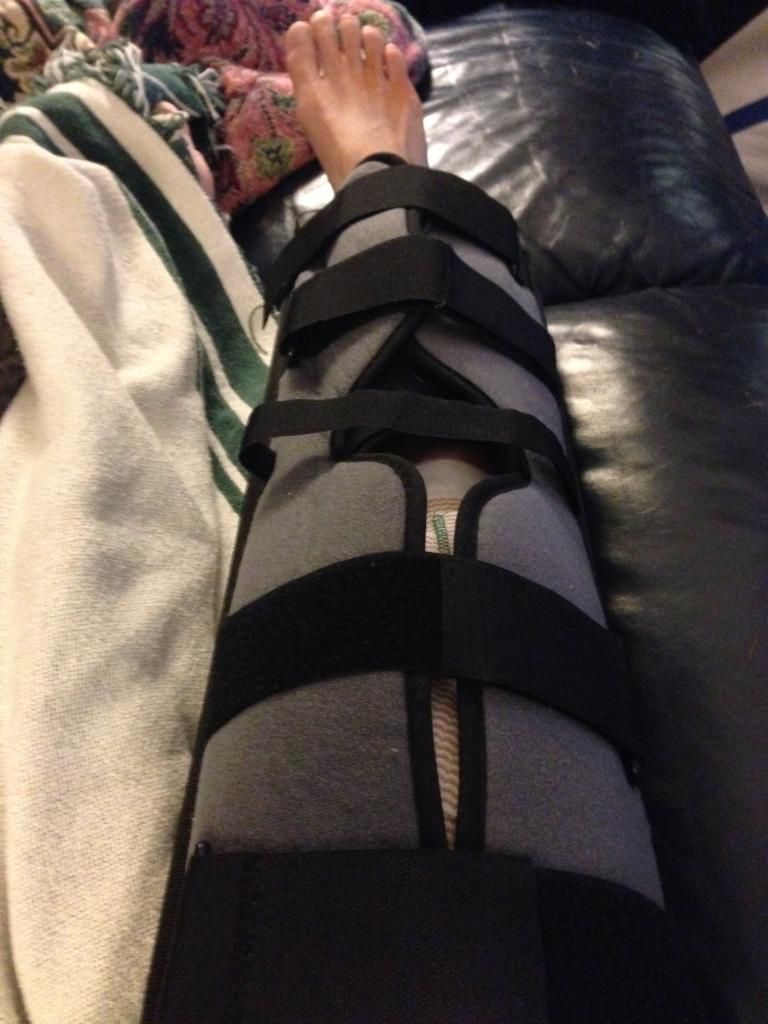 Day 1 post-surgery
Friday I went to see Dr. Moore's for my first post-op visit. My brace and stitches were removed. I was surprised at the lack of swelling in my knee. Dr. Moore was also pleased and told me that I could return to the pool Monday. He emphasized the importance of working on getting my mobility back in my knee.
Day 2 post-surgery: Stitches and brace just removed
My mobility improved over the weekend as my love of "House of Cards" became an obsession. I had never watched the series, but had ample time on my hands to get fully engrossed. Now I completely understand the Frank Underwood references that I read/hear. Wow!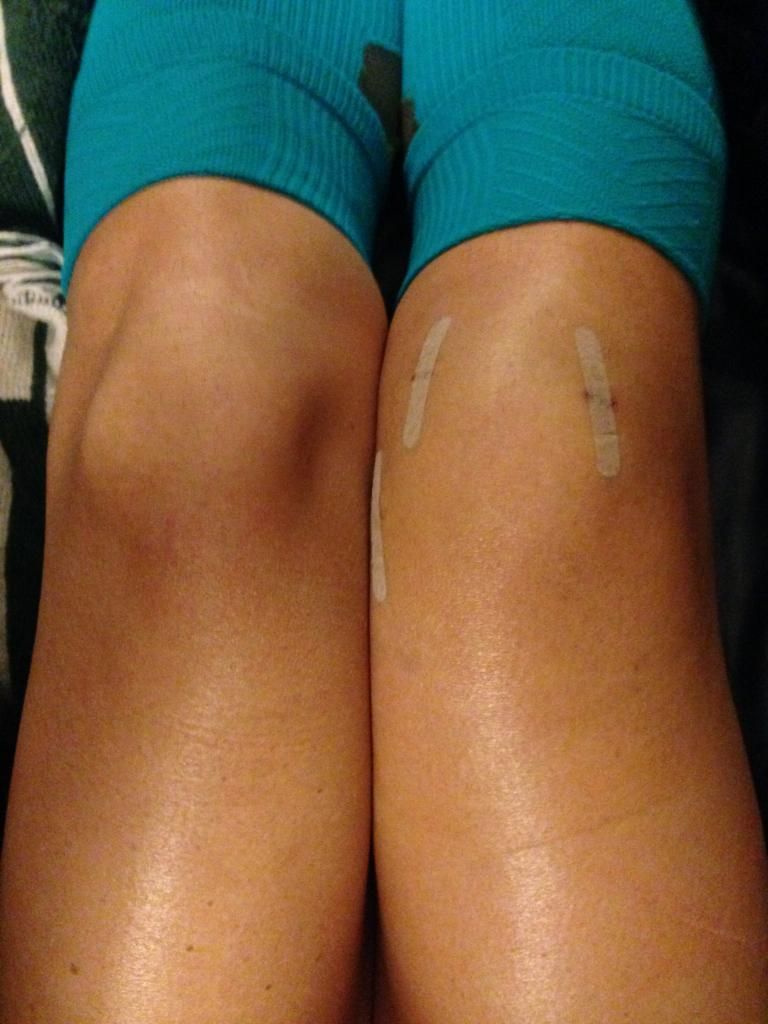 Day 3/4 post-surgery: swelling continues to go down
I get to swim for the first time on Monday and go for the second post-op appointment with Dr. Moore on Friday.
The small amount of cross training that I got in earlier in the week is as follows:
Monday - WOL swim practice
WARM UP
400 yds easy
3 x 100 drill (10/10 and one arm)
6 x 25 (odd swim fast, even kick fast)
MAIN SET
10 x 100 best average @ 2:30 (I averaged 1:32/33 which was a HUGE surprise for me)
COOL DOWN
100 free
TOTAL: 1950 YDS
AJ in the ICW - avoiding a big storm I got in 2 sets of 5 x 1:30 hard, :30 recovery
Tuesday - AJ 60:00 (3 sets of 4 x 2:30 hard, :30 easy, plus warm up and cool down), then swim
WARM UP
200 pull
200 kick
MAIN SET
5 x 100 - 25 Sprint with Fist, 75 EZ (base +:10)
1 x 300 - Exaggerated Kick every 3rd 25 (:30 SR)
5 x 100 - 75 EZ, 25 Sprint (base +:10)
3 x 100 - 50 Sprint with Fist, 50 EZ (base +:10)
1 x 300 - Exaggerated Kick every 3rd 25 (:30 SR)
3 x 100 - 50 EZ, 50 Sprint (base +:10)
1 x 100 - 75 Sprint with Fist, 25 EZ (base +:10)
1 x 300 - Exaggerated Kick every 3rd 25 (:30 SR)
1 x 100 - 25 EZ, 75 Sprint (base +:10)
COOL DOWN
200 free
TOTAL: 3300 YDS
Wednesday - WOL swim practice
WARM UP
600 (2 x (200 swim, 100 kick) with fins)
6x50 (even DPS, odd tarzan(25) & 10/10 (25))
MAIN SET
8x25 1-4 rt paddle, 5-8 lt paddle on :35
6x75 25 underwater kick, 25 easy, 25 fast) on 1:30
4x200 100 paddles & buoy, :15 rest, 50 hard, :10 rest, 50 hard on 4:30
COOL DOWN
100 easy
TOTAL: 2450 YDS
Sunday - 60:00 yoga and strength
WEEKLY TOTALS:
100 minutes AJ
7700 yds Swim
60 minutes yoga/strength
Treading water is the same as drowning for people like you and me,