Sometimes the hardest thing to do is believe.
During the school year I champion my students and advisees to believe in their ability to do great things and often more than they currently think possible. Their world is so new and full of promise. I particularly urge the females forward as we are so rare in the world of economics. The Roanoke College Economics Class of 2012 was not rare with three females in a group of fifteen. I am overjoyed when advisees like Marko text me that they were accepted to graduate school, Justin emails me with updates from graduate school and lacrosse in England and Sara tells me about her amazing new job. At some point each of these amazing young people needed to hear from me that they need to believe.
I am terrible about taking my own advice. I am blessed to have a mother, a coach, a husband and friends to remind me that I too can do great things, but at times I struggle, something that is hard for me to admit.
Let's take running. This summer I have been working on form and speed with the goal of running a new marathon PR in October. Workouts are going according to plan, but I keep doubting myself. Why am I not faster yet with all of this work? Should my mileage be higher? How am I going to run this pace for 26.2 miles in only 18 weeks? Weren't my paces faster last winter? Grrrr!
During workouts and races the monkey mind has been showing up telling me that I will die if I push harder...saying words like "can't", "don't" or plain old "no".
What is a girl to do?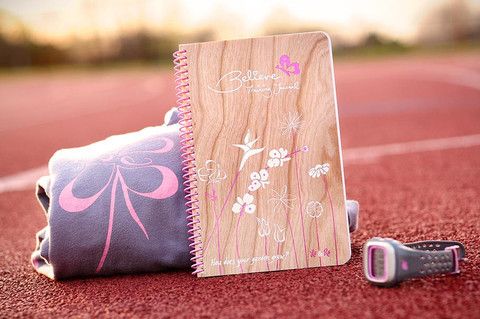 BIA Training Journal
Recently I bought two copies of Lauren Fleshmen and Roisin McGettigan's
Believe I Am Training Journal
: one for my departing running buddy and good friend Jackie and one for me. I thought that even if we couldn't train together after her move to Florida, we could use the same journal (put together by some of our favorite female distance runners) and share our training journey through written words.
Throughout the journal are inspirational statements and suggestions that have helped the authors and other runners in their careers. There is a focus on making running simple and joyful. Most of us run for the joy that running brings. Although the joy of a great race or workout is always followed eventually by the heartache of a fail, we keep going because we love the sport and the journey for the joyous experiences.
Visual cue from BIA
Distance runners, in my experience, are experts at making the simple act of running very complicated. In reality, who cares if I do fail a workout or race? I can still get out and run the next day and with the grace of God I will be able to chase my joy for decades to come.
This month's training journal page is titled "Strength, courage & wisdom". Monkey mind be vanquished with my three ninja stars: the physical body, the heart and the mind! In order for these weapons to be effective, I must BELIEVE! I publicly advise myself to dream big and believe that my goals can be reached. Thank you Ro and Lo for reminding me daily how to do so.
If you need a training weapon for your demons, I suggest trying out the Believe I Am Training Journal.
I'll be throwing stars this summer, so watch out!